Additional information on Long Term Care Insurance Pros and Cons.
Large Mistakes Vs. Small Mistakes
In evaluating whether you should consider an LTC insurance policy, consider the concept of large mistakes versus small mistakes.
A big mistake could be not planning ahead for Long Term Care can cost you hundreds of thousands of dollars. A small mistake would be buying a Long Term Care plan when in reality you didn't end up needing LTC and paid premiums for many years.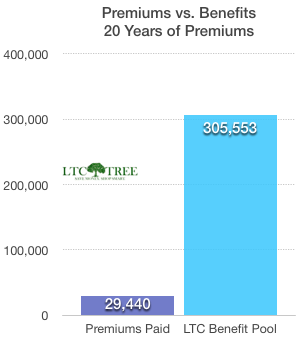 Consider the above graph of premiums paid versus the LTC benefit pool after 20 years. Based on a 55-year-old married male.
If the possibility of wiping out all of your savings paying for Long Term Care is unappealing, you can buy an affordable LTC policy that will provide security, and let you focus on other retirement objectives.