If you are married or have a partner, you can purchase an optional add-on to your policies that joins them together as a single coverage amount. So, for example, rather than each having individual benefit accounts, one for the husband, and one for the wife, you can combine those two accounts together, with twice the benefits, to be shared by both of you.
This is more than just two policies.
When you opt for the Shared benefit rider, you are buying an option over and above what you'll pay for two policies. A common misconception is that when a husband and wife (or partners) both buy policies they are automatically "Shared." While there are generous discounts when a couple purchases LTC policies, the add-on feature that combines your benefits will cost you extra.
Shared Long Term Care: Worth It For Us?
The question you'll need to consider is whether adding the "Shared" rider is worth the extra money, in exchange for peace of mind. To put the cost in perspective, it ranges from around 10% to as much as 25% depending on the state, age of insured, and company considered. Because of all these variables, you should consider looking at both policies with -and- without this coverage added. Like most things in this world, there's not really a good "one size fits all" piece of advice we can give. We can mention that Genworth, the largest LTC insurer in the United States, recently reported that more than half of new applications they get have the Shared coverage added. Whether this is because it is up-sold by a lot of agents or genuinely demanded by the market is a separate debate.
What Happens When One Spouse Dies?
A common question that comes up when considering Shared Long Term Care policies is what happens upon death. With most plans on the market, the surviving spouse will retain not only their coverage, but any benefits left to the deceased spouse as well. This means that if the husband dies without using any Long Term Care benefits, at least he can then "donate" that coverage automatically to his wife in the case of a Shared policy. With Genworth's Privileged Choice Flex3 plan, the ~20% additional cost for the Shared rider actually stops when one spouse dies, meaning the premiums for a married couple of similar age and health would be more than cut in half. The surviving wife would then not only have her husband's un-used coverage plus her original coverage, but also would not be paying any extra for the privilege at that point. This can make sense for many use-cases.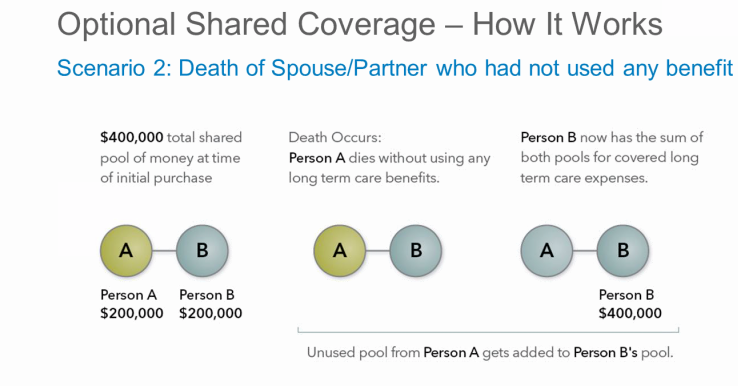 What If One Spouse Depletes Benefits of Both?
An immediate concern people have when evaluating Shared coverage is the hypothetical (but possible) scenario where one spouse has a bad situation that uses up and completely depletes not only their own coverage but the coverage of their spouse as well, rendering all benefits depleted and no coverage for the surviving spouse.
Each company handles this a little differently, so let's summarize some of the ways a few plans handle this:
Third Pool Option

This option insulates the individual policies from each other by opting to instead create a third pool of money that can be accessed by either spouse in the event that their own pool of money is depleted. This way one spouse cannot "share" the actual coverage from the other spouse's pool but instead uses benefits from the created third pool of money.

Residual Benefit

Some companies will allow for one spouse to drain all of their benefits as well as the spouses, and create a contractual "residual" benefit for the other spouse. So if the husband were to use all of his benefits and then use all of his wife's benefits, with a policy that has residual benefits, the wife would still have a benefit pool equal to half her original pool, even though technically the husband had used it up. This provides more peace of mind than a standard shared plan.

A Limit on Sharing

Some companies only allow the policies to share a certain number of years. For example, on a 3+3=6 year shared policy, only 2 of the 3 years each policy has can be shared, so one person could only use 5 years total, leaving the other spouse at least a year.