A few years ago, the Long Term Care industry determined that a disproportionately high number of women ended up needing Long Term Care versus their male counterparts. This was not a shock to the generations of women who have acted as the "defacto" family caregiver.
Women Pay More
For decades, Long Term Care Insurance was priced the same whether one was male or female. Starting in 2012, companies began to increase the premium cost for insurance on women versus men. There was precedent: men have paid more for life insurance for years because men are more likely to die at a young age. Teens pay more for auto insurance because they are mor likely to have accidents. Given that women make 2/3 of Long Term Care claims (per actuaries at the large insurance companies) it was no surprise that the insurance companies wanted to target this risk. The result was in more specific pricing for women that took into account martial status, state, etc. In fact, for some single men, rates actually have dropped the past few years.
Women More Likely To Live Alone
There's no doubt that when we live alone, the need for assistance on even small daily tasks can be higher than if we have a partner nearby. According to the National Alliance for Caregiving, in a 2009 study, 1 in 5 women have had to take a leave of absence to provide care, yet increasingly women are living along relative to men. This trend is most pronounced in women 75 and over.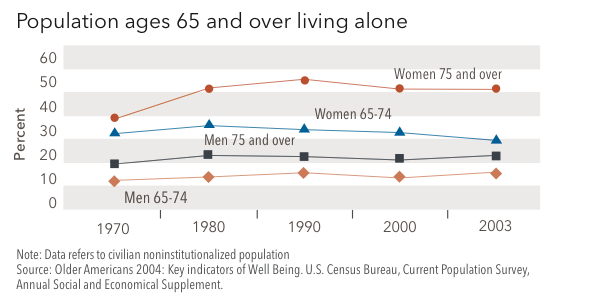 There are still companies that charge the same premiums.
In 2014, there are still a few top-rated carriers that have "Unisex" pricing, charging women and men the same premiums when all other factors are equal. Take some time to request a quote from our mix of the blue chip carriers and see how the companies compete for your business.